We are excited to announce that the Jakarto team will be present at the FIG Working Week 2023, taking place from May 28th to June 1st in Orlando, Florida. The Jakarto team will be on-site during this major international event dedicated to geospatial professions. We will also have a booth to welcome you and discuss our innovative solutions with you.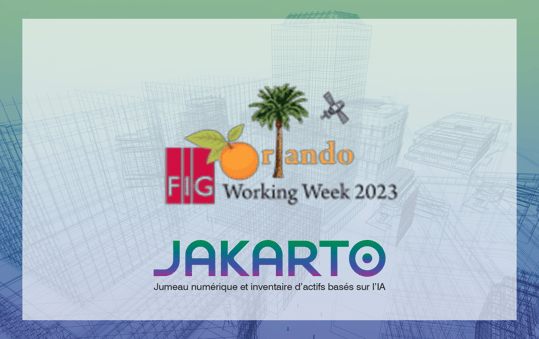 As the world emerges from a global pandemic and enthusiasm for in-person conferences is rekindled, the FIG Working Week 2023 focuses on the need to help our environment grow sustainably. This year's theme is perfectly aligned with the United Nations Sustainable Development Goals (SDG) adopted by member states in 2015, reflecting the importance of our role as geospatial professionals in contributing to these objectives.
The FIG Working Week is a unique opportunity for industry professionals to come together, exchange ideas, and work together to find better solutions for our planet's sustainability. As experts in 3D mapping and digital twin creation, the Jakarto team is proud to participate in this event and share its expertise with geospatial stakeholders from around the world.
Don't miss this opportunity to meet Félix Laroche and Thierry Baulu from the Jakarto team at the FIG Working Week 2023 in Orlando.