Wanting to do its part for the planet, Jakarto supports UNISFÉRA's Planetair initiative by purchasing carbon credits to offset emissions.

We're proud to have received Planetair's stamp of approval: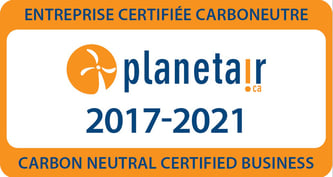 Carbon neutral certified company
This initiative is part of a collective effort to reduce our carbon footprint and provide clients with eco-conscious solutions developed in Quebec. We're extremely pleased to have made our operations carbon neutral—in fact, we're probably the first mobile mapping company to do so.

Félix Laroche, CEO Jakarto
A global v
ision
Jakarto aims to do its part for the environment in two ways.
Firstly, Jakarto offsets the GHGs emitted by its three capture units, which travel approximately 50,000 to 70,000 km across Quebec every year. These distances are covered to map roads and urban infrastructures, cataloguing buildings and vegetation along the way. Since 2017, Jakarto has been keen to calculate and compensate for these emissions.
Secondly, Jakarto's 3D HD mapping solutions are powerful allies to Mother Nature. By producing a city's "digital twin," we minimize the need for onsite maintenance and inspection, thus reducing travel required by architects, urban planners, engineers, and geomatics specialists. Moreover, our system itemizes and analyzes vegetation to map green spaces and calculate CO2 absorption capacity.
I

nvolvement with

Planetair.ca
Jakarto contributes specifically to the "Planetair + Quebec (Nature)" portfolio, which has two key components:
100%

of

greenhouse gas (GHG) emissions

are

offset with Gold Standard-certified carbon credits.

A contribution

is made

to the

Nature Conservancy of Canada (CNC) for each ton

ne we offset. This contribution

support

s

projects that protect and restore natural habitats

in

Quebec.
Jakarto encourages businesses and citizens alike to do their part. If you want to get involved with greener practices, Plateair.ca is just one of the many exceptional organizations worth discovering.