Jakarta is sponsoring the AMO 2022 Annual General Meeting and Conference in Ottawa, August 14-16.

With mapping activities and opportunities arising in the Province of Ontario, Jakarta is participating and sponsoring for the first time of the Annual Conference of the Association of Municipalities Ontario (AMO).


With topics like Emergency Services, Energy & Climate Change, Environment, Health & Human Services, Indigenous Relations, Infrastructure & Broadband, Municipal Gov & Finance, Planning, Building & Parks, Strategic Priorities, Waste Diversion, the 2022 edition program is filled with presentations, keynote speakers, panels and forums (the Ministers' forum, the Women's Leadership Forum, the Economic Recovery Panel).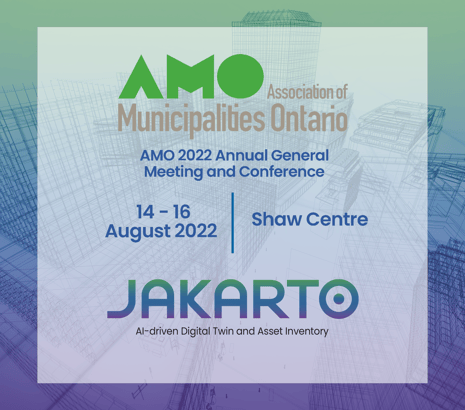 As a Silver Sponsor, Jakarto is giving a presentation at the Tuesday Morning Insight breakfast in front of all participants:
AI-Driven Digital Twin and Asset Inventory

Jakarto enables cities and utilities to optimize their asset and infrastructure management by offering an engineering-grade digital twin and automated AI-drive asset inventory solution.