Cities have become increasingly "smart" by applying data to solve urban problems. Asian cities continue to lead the way through innovations while Western cities work on upgrading their infrastructure. However, in the aftermath of the COVID-19 pandemic, more locations globally are pushing to manage expansion and sustainability through the use of relevant technologies.
Smart cities could increase economic productivity by a remarkable $20 trillion by 2026. Investment will take place in fundamental technologies, building management, electricity, and other important areas. Jakarto's 3D mapping technology assists municipalities in handling these components as they become "smart cities."
What Makes a "Smart City" Smart?
A smart city uses geographical information systems (GIS)—and GIS data—to improve its services. The use of this data enhances municipal services, such as making transportation and utilities more efficient. In fact, mayors see data as the most powerful tool for improving municipalities.
Creating a smart city will increase the quality of life for its residents, but doing so takes a combination of the right technology and a smart city mindset. It's the attitude of innovation that propels a municipality toward better services.
One particularly useful technology that municipalities can now deploy is a digital twin city. A digital twin of an object is a detailed representation of that object in data; in the case of a city, the digital twin contains a model made by 3D mapping. You can visualize the entire city as if you are there.
Goals of a Smart City
The benefits of a smart city increase in proportion to the level of technological advances employed. We already see how wireless and mobile data improve communications in areas where they're available. More effective traffic control improves transportation; better city planning and maintenance offer numerous advantages.
For instance, a smart city creates an environment wherein new technology continues to develop. In addition, these urban spaces are safer, healthier, and have more pleasing environments, as residents and visitors alike find it easier to socialize. And for people who want to participate in community political and economic activities, it's more feasible to achieve one's goals.
Learning From the Smart Cities of Today
Today's smart cities use technology to improve every aspect of a city's processes, and we've already seen impressive progress in their development. Their digital framework is designed to let residents help make the city even smarter. After all, today's digital technology forms the foundation for tomorrow's communities. As a result, smart cities use technology to streamline operations and build stronger ties with citizens, businesses, and nonprofits—which in turn helps them become even more automated and responsive.
Leveraging the Power of 3D Mapping and Geospatial Data
One of the most useful tools for building a smart city is 3D mapping. This improves upon previous 2D mapping that many cities have deployed, such as in traditional GIS. The third dimension provides a much better representation for visualization and analysis.
Geospatial data produced by companies like Jakarto can help cities rethink their designs. For example, you can easily see all the buildings, roads, and other features realistically. The extremely precise data also enables automation with artificial intelligence (AI). The system can detect and track all your city's assets.
Any city department will find 3D mapping and geospatial data useful because you can collaborate with partners, making tasks far more efficient. For example, inspectors can compare different data versions to see changes at the street level, and you can detect problems remotely before rolling out maintenance vehicles.
Cities are already taking advantage of 3D mapping for various purposes, including predicting wind comfort, air quality, noise, and crowd movements. Cities are also building "point clouds" of data to help autonomous vehicles detect and avoid objects.
Geospatial data can also help cities with a whole host of proactive policies. For example, when planning solar power installation, one could use this data to assist in measuring solar power generation, site selection, legal compliance, planning, and land use design. Having detailed models enables planners to ensure the safety and efficiency of cities.
Adaptive Cities Are the Future of Smart Cities
As valuable as smart cities are, they're still evolving. The proposed next stage is called an "adaptive city." Becoming adaptive is the goal for many cities working with a smart city mindset.
An adaptive city doesn't just ingest data; it dynamically adjusts to events as they unfold. Essentially, it has the agile responsiveness to balance physical and digital systems. Information continuously prods the social and economic organs of the city to adapt.
Examples include the dynamic management of curbs and buildings. On the basis of data, a parking space can automatically become a loading or delivery zone. A football stadium can be disassembled as needed. Public areas can be repurposed for retail and other uses.
Another example is the design of electric grids that can reorganize themselves in response to failures. In Bristol, for example, residents can contribute feedback through a system that responds to their smartphones. The city adjusts to the millions of streams of data like a living organism.
Sustainability Will Drive the Present and the Future of Smart Cities
Cities in many countries are pushing to become sustainable, which motivates some of the developments in smart cities. Sustainable technologies contribute to improving the lives of citizens while also preserving resources for future generations.
With more and more people pouring into cities, there's a pressing need to ensure social, economic, and environmental sustainability. To respond to this need, cities are working to keep the air breathable, cut noise pollution, upgrade old infrastructure, and reduce the waste of resources. Having 3D mapping data opens possibilities in all these endeavors and others.
Build a Smart City, the Jakarto Way
Smart cities have gone from a futuristic vision to a process now underway. The innovative mindset brings together technologies such as 3D mapping to facilitate the lives of city workers and residents. Municipalities looking to deliver the most advanced services available can work with experts like Jakarto to ensure the success of 3D mapping projects.
The Jakarto way starts with a 3D digital twin of your city. This twin serves as a reproduction of the area's geography and composition, which supports planning exercises. You can easily understand interrelations and identify areas of potential (and problems).
Furthermore, the digital twin enables the generation of up-to-date inventories. AI processes your city data to categorize different types of assets and feed various departments information they can act on. For instance, you can automatically inventory all traffic lights, road signs, poles, street lighting, fire hydrants, trees, road pavement, and the curbside state.
When you're ready to bring tomorrow's technology to today's urban landscapes, contact Jakarto.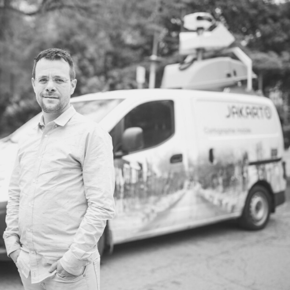 Felix Laroche
Après avoir passé plus de 20 ans au sein de JLR Solutions foncières, dont 7 à titre de président, Félix est maintenant impliqué à 100% dans son nouveau projet Jakarto. Ce projet consiste à modéliser les villes en 3D, afin de créer des villes jumelles numériques à l'aide de la technologie LiDAR, plus spécifiquement des LiDARs terrestres. Deux marchés sont priorisés, les villes intelligentes et la cartographie HD pour la conduite autonome.