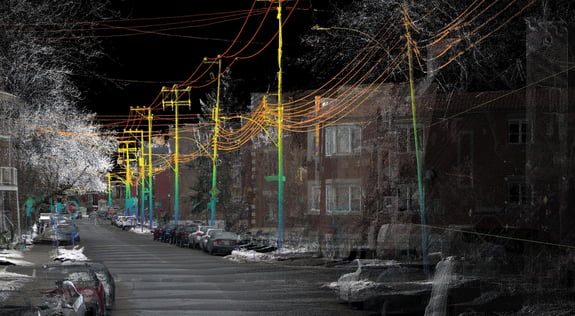 Modeling of the overhead electrical network.
This Jakarto data is specifically produced for the transportation and electric distribution industry. They are useful for owners, operators, inspectors, and engineers.


This inventory, with a description of the overhead electrical network, contains the 2D geolocation, 3D representation, classification, and typology of network components as seen from the road. This includes:


Poles
Equipment
Wires (and their connectivity and topology).

These inventory data are generated from Jakarto's digital twin type data already available in the Jakartowns web application. Check out our coverage map.

Type of Data
The inventory data for poles is divided into three deliverables:
2D Data: Data file (.shp) containing the geolocation of items and some attributes including the pole type.
3D Data: Classified point cloud data for poles, equipment, and wires. Data stored and structured in a Spatial Database Management System (e.g., PostGIS).
Jakartowns Context URL: For each element, a hyperlink is associated and can be activated to open Jakartowns directly at the location of the element, allowing you to visualize the entire geographical context.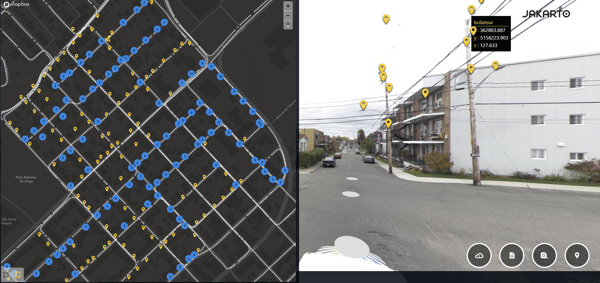 Key information
Geographic coverage
In the event that your geography is not yet in the Jakarto catalog, and according to our geographic coverage planning, the data you desire could be produced as a priority. In the case of a geography outside our planning, they could be produced on request and after evaluation. Allow for production and delivery times between 5 and 10 weeks.
Quality and completeness
Note that Jakarto offers by default (data at a very economical base price) a confidence level on the identification and classification of 95% (minimum, the result can be higher) through its automatic data processing platform.
Optionally, there are two (2) possibilities surrounding quality assurance to attempt to achieve 100% identification and classification of data as seen from the road:




The purchasing client can, with semi-automatic tools provided by Jakarto, carry out quality assurance tasks and assist the algorithms to confirm uncertain cases (labelling);




Jakarto's team of experts can, for an additional fee, carry out these quality assurance and labelling works.
150
cities already digitized
100 000
+
kilometers digitized